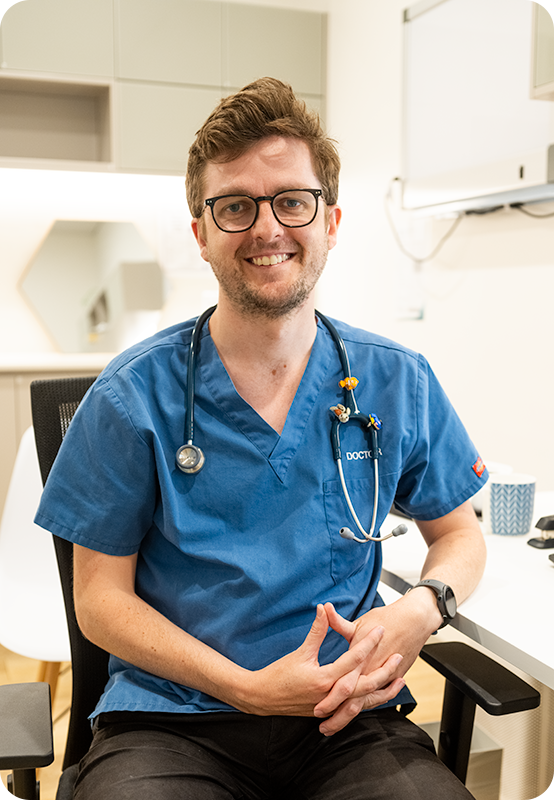 Specialisation:
Acute Illness
Adolescent Mental Health
Child Health Services
Chronic Disease Prevention & Management
HIV Management
Mental Health
Sexual Health
Skin Cancer
Travel Health
Work Health
Special Interests:
Men's Health
Paediatric Medicine
Dr Rupert Higgins
BMedSci (Hons); MD (UNSW); FRACGP
Hi! I'm Rupert Higgins, one of the GPs working here at Green Square Health.
I trained in Medical Science and Medicine, graduating from UNSW in 2016. Before Green Square Health, I worked in the hospital system at St Vincent's Hospital and did my GP specialist training in various practices across South-West Sydney.
I enjoy the breadth of general practice and welcome people of all genders, sexualities, ages and cultural groups. I am very passionate about what general practice can offer the health of our community; when I'm not working here, I work at the Royal Australian College of General Practitioners as a medical educator, teaching the next generation of GPs and defence force doctors.
I am particularly inspired by working with young people, and as a generalist, understand the broad implications of work, study and relationships on both mental and physical health. I have a special interest in mental health and work with people with anxiety, depression, ADHD, trauma and relationship issues. I am your independent advocate in the health system and can help you navigate the complex mental health system, having cultivated referral networks so you can receive the best care available for your needs.
I also conduct a lot of my practice in skin cancer checks, sexual health and travel medicine.
If you are concerned about your health or the health of a loved one, I welcome you to book an appointment with me to discuss your health goals and build that trusting long-term connection.
Let our doctors guide you to better health so you can live your best life